Now Offered in Both Locations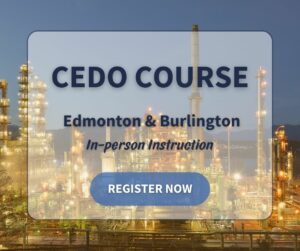 At IR we're really excited about being able to offer the upcoming CEDO course at our Edmonton location.  And we are not alone.  We've had several people sign up with early enrolment.  In fact, we've already reached our minimum enrolment.  Part of what makes this course so special, besides it being the first time that we are offering this course, is that we are holding it live and in-person.  Nothing compares to in-person learning that comes with hands-on instruction.  The downfall is that we will have limited space.  So, we are doing something about that.  We are now offering a second date at our Burlington location.
Edmonton CEDO Course:              October 17 to 21, 2022
Burlington CEDO Course:              November 21 to 25, 2022
What is the CEDO course about?  The course is designed to prepare students for work as an industrial radiographer and to successfully pass the CEDO examination administered by the Natural Resources Canada.  It's based on the vocational training requirements listed in CSA PCP-09 and provides the student with 40-hours of instruction in radiation safety, regulatory requirements, and theory and practice of gamma radiography. After successfully completing the course students will receive a certificate that can be submitted to the CNSC as part of their application for CEDO certification.  More information and a course outline can be found at this link. Interested in signing up?  The enrolment form can be found on the same page.
Buy Online with Purchase-by-PO
Enrolment and payment for our courses is done online.  Never shopped on our website before?  It's a simple way to order your everyday consumables.  Need to make your purchases by PO?  That can be done when you shop at IRSS.ca.  In fact, it's a new feature that we are keen to share.  So much so, that we have an incentive for the first handful of people who shop online with the Payment-by-PO feature.  The incentive?  A $100 gift card to the Keg, just for you.  The catch?  We'll ask you to answer a few questions—it won't take more than a minute—on your experience shopping this way.  So, if you want to enrol for the CEDO course and you're set up with us to purchase by PO, try out our website.  Really, who doesn't like the Keg?  To get your account website account set up, email marketing@irss.ca or give us a call and ask for Barb.