Welcoming Robbie VanHoek in New Role as Vice President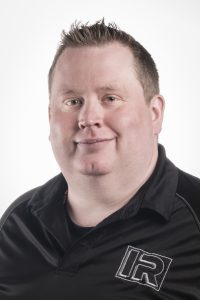 Edmonton, Alberta—IR Supplies and Services is pleased to announce that Robbie VanHoek recently acquired shares in the company. This acquisition means that Robbie will join IR as a co-owner and with that he will now hold the role of vice president.
Rob Muschket, president of IR, can't help sharing his enthusiasm for this important change. "Robbie has been with the company since 2012 and his role has grown significantly during that time. He has been working alongside me for some time and has been very involved in the intricacies of running our business. One area where his success has been realized is with the incredible growth that we have seen at our Burlington location. Looking to the future, his involvement at this level is a critical part of my succession plan."
IR opened the Burlington, Ontario location in 2018, a strategic move to help serve eastern Canada with a closer proximity.
"Our roots are in Alberta and that is where our primary operations are located," says Muschket. "IR has always been a national company. Establishing a brick-and-mortar presence in Ontario, so that we can do an even better job of servicing our clients across the country, was a natural choice for us. Robbie has been at the helm for that change right from the beginning".
When reflecting on his new position, VanHoek shares his excitement. "IR has seen some great changes. It's been a source of pride for me to help lead the team to the success it is seeing now. Formalizing my contribution only means that I can really dig in, to realize the plans we see for the future. There are so many solutions that will benefit our clients, it's just a matter of putting those ideas into action."
In his new leadership position VanHoek will continue to operate out of Burlington. To see the full roster of employees who make up the team that services the IR clients, visit IRSS.ca.
About IR Supplies and Services: IR Supplies and Services has been a trusted source for industrial solutions across Canada since 2004. They supply top products and brands, perform research, provide training, and perform maintenance, repair, and equipment calibrations. IR leverages both outside partners and internal capabilities to bring the most comprehensive and high-quality equipment to clients.
Website: https://irss.ca/
Facebook: https://www.facebook.com/irsuppliesandservices/
LinkedIn: https://www.linkedin.com/company/irsuppliesandservices/
SOURCE IR Supplies and Services
For further information contact: Barbara Daley, Marketing Manager, IR Supplies and Services, barb@irss.ca, 780-974-5764.
###