CEDO Training this Fall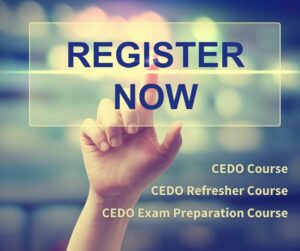 Back to school season is just around the corner and at IR we are gearing up to share three great learning opportunities with you:
September 19, 2022                        CEDO Refresher Course
September 20, 2022                        CEDO Exam Preparation Course
October 17 to 21, 2022                   CEDO Course
All three courses, which are exclusive to IR, are provided with instruction by Dave Paynter.  All are live with two being virtual and one in-person at our Edmonton location.  Read on below for more details.  Course outlines, pricing and registration can be found at this link.
CEDO Refresher Course
The one-day CEDO refresher course at IR is intended for exposure device operators looking to refresh their knowledge and meet their requirements for continuing education. CEDOs looking to renew their certification must have a minimum of 40 hours of continuing education over a five-year period with a minimum of 5 hours per year.  This one-day session will be live via video conference.  More information can be found on our website.
CEDO Exam Preparation Course
The CEDO exam preparation course prepares students for the Certified Exposure Device Operator (CEDO) exam that is administered by Natural Resources Canada.  The course will consist of live training that is virtual.  Details can be found at this link.
CEDO Course
The CEDO course is the newest of the courses we offer, and this upcoming session is the first of them.  It is based on the vocational training requirements listed in CSA PCP-09 and provides the student with 40-hours of instruction in radiation safety, regulatory requirements, and theory and practice of gamma radiography.  The course is designed to prepare students for work as an industrial radiographer and successfully pass the CEDO examination administered by the Natural Resources Canada.  The course will be in-person at our Edmonton location.  Find out more at this page on our website.
About the Instructor
The instructor for the CEDO courses at IR is David Paynter, BSc, CRSP.   Dave has over ten years of experience with radiation safety and regulations, and is a holder of Canadian Registered Safety Professional certification.  Before moving into the private sector in 2013, Dave worked for several years as a CNSC inspector and a Class 7 TDG inspector. He has first-hand experience in a safety role having worked as the RSO for one of the largest industrial radiography licences in Canada from 2013 to 2019.  We are very pleased to be able to bring Dave and the expertise he has to share, to IR.
Other Courses at IR
We offer a large range of courses at IR and are constantly developing more as we identify opportunities that will benefit you.  To see what we have to offer, be sure to visit our website.  If you have questions about any of our courses, be sure to contact us.
Shop Online with a Purchase Order
Buying every day, consumable items off the IR website has been a convenience for those who make their purchases with credit cards. They have the option to ship or pick their purchase up at either our Edmonton or our Burlington location. Unfortunately, those who purchase with purchase orders have not been able to shop online with us.  Those clients have been missing out on the convenience, speed and 24/7 ability to get what they need. Now that has changed!  Introducing web shopping by PO.  That's right.  Now instead of entering a credit card number, buyers can enter a PO number.  To use this option, all you need is to have a Net 30 account in place with us.  It really is that easy.  Contact us to get set up.