The JME portable X-Ray Betatron 7.5MeV is designed to produce high energy ionising radiation for industrial radiographic non-destructive testing.  It can penetrate 30 centimeters of steel or 1 metre of concrete.  Case study provided by JME Advanced Inspection Systems.
In March 2019, JME were tasked with supporting an inspection company in Italy to perform X-Rays of a road bridge in an area notorious for earthquakes. After the Morandi bridge collapse in Genoa in 2018, large scale discussions took place to determine the extent of the potential problems other structures could face as a result of an increase in pollution, corrosion, vehicle traffic, geological factors and poor maintenance schedules.
The Morandi bridge was a new breed of structure, constructed pretty much solely of pre-stressed concrete, and as a result required substantially less steel cabling than previous structures. This was originally billed as a maintenance free method of construction, and as a result, thousands of bridges, viaducts and tunnels were constructed in a similar manner.
Bringing us forward to the current day, many of these structures are still yet to be inspected 100%, ultimately raising questions as to whether there are going to be repeats of the Morandi bridge collapse.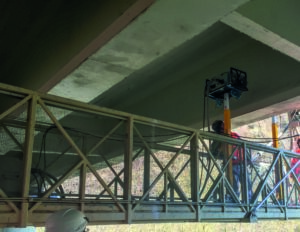 JME delivered their 7.5 MeV Portable Betatron system to a small village north of Rome, and supported the inspection company, alongside the digital panel supplier in successfully carrying out over 120 individual exposures on concrete thicknesses ranging from 300 – 1100 mm's. Using this system, the inspection company were able to evaluate, not only the presence of the steel cables within the concrete, but take accurate measurements of its thickness, determine its integrity, and ultimately prove whether the structure was safe.
The portability of the Betatron system, coupled with its high energy output puts it in a position of being the only X-Ray source capable of performing this kind of inspection. Using an underbridge inspection platform, the Betatron system and digital panel were mounted in their specially designed fixtures and lowered into position under the bridge superstructure.
Contact us for more information on the JME PXB:7.5 Betatron.