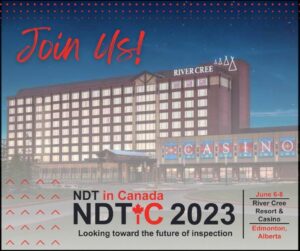 In just a week, the Canadian Institute for Non-destructive Evaluation (CINDE) will be opening the doors at the River Cree Resort & Casino, for the NDT in Canada 2023 conference. Once again, we are proud to say that we will be co-sponsors at this Edmonton-based event.
CINDE, as we like to call the conference, will be held between June 6 and 8. On June 6, the Pre-conference Mix 'n Mingle will be held from 6:30 until 8:30 pm. The next day and following morning will be all business, or in our case, all fun. That's when the trade show happens. Doors open at 10:00 am both mornings. We have so much to share with you and hope you will join us. Admission is free. You can find us at booths 14 and 15.
As always, we will be there with many of our brand partners. Carestream, Comet, PH Tool, and Sonatest will all have booths close by. Within our booth we will be featuring SciAps, Vermon NDT, QSA Global, Labino, JME, Magnaflux and more. It's a great opportunity to find out what is new, what's in the works, or even what we have right now and might be a great fit to help you enhance your business. We have easy access to the products that we carry and can deliver many of them to you right away.
You can also ask us about the training we offer. We've added so many new courses to our roster in the past little while. We offer anything from the in-demand CEDO course to the ever-popular inspection and maintenance course along with the source retrieval course, as well as our recently introduced XRF course. You can even register online while you're at our booth, with just a few clicks on your phone.
And let's not forget about our financing options. We can talk about how a big investment today can make a difference to your business tomorrow. Application is easy and the turnaround is fast. Just ask us how.
So, block your calendar and plan to join us. You can register online to secure your spot at this link. Full registration includes:
• Hot breakfast, AM break, lunch, and PM break on technical programming days
• Access to pre-conference Mix 'n Mingle reception
• Access to banquet and awards dinner
• Access to all technical presentations
Registration can also be done on site, at the door. We hope to see you there.