We are looking forward to having you join us at our upcoming open house. 
Please RSVP at the bottom of this page.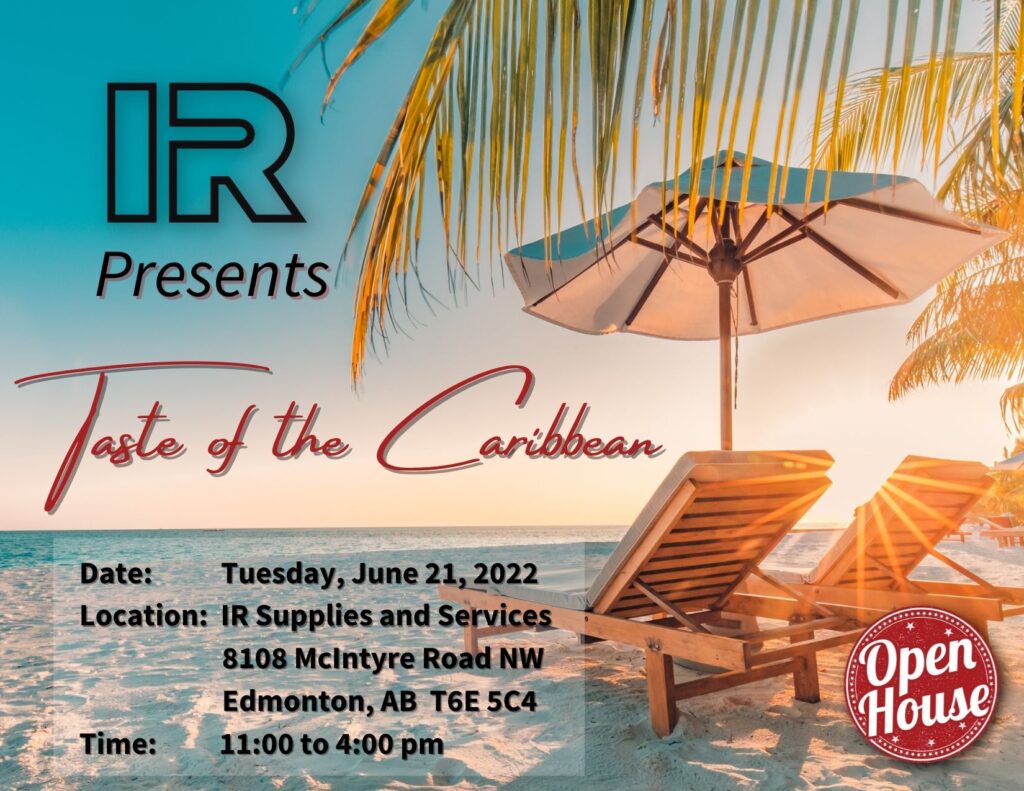 Summer is just around the corner and it's time to celebrate.  I'm sure you agree that an opportunity to get together and kick back is long overdue.  In that light, we have something planned, and we hope you will join us.
We are having an open house at our Edmonton location.  Our theme?  Taste of the Caribbean.  It's been a long time since many of us have travelled, and we have set out to capture all the fun elements that we've been missing out on.  We're bringing the Caribbean to Edmonton.
Date:  Tuesday, June 21, 2022
Location:  IR Supplies and Services, 8108 McIntyre Road NW, Edmonton, AB  T6E 5C4
Time:  11:00 until 4:00 pm
RSVP:  Below or 780-452-4761
We have so many things planned for this exciting event.  A big highlight is the food.  We've hired one of the city's top food trucks to join us. Paradise Grill will be serving up a fantastic variety of Caribbean cuisine.  Check out their website. I'm sure you will agree that it will be a highlight of the event; lunch is on us.
Of course, we are also taking advantage of the presence of some of our VIP guests.  We have representatives from several of our top vendors who will be joining us.  Some are even flying into Canada to make it.  (The event is going to be that great.)  While they are here, you will get a chance to speak to them directly so you can find out about the features of the many products that we offer.  There will be some demos too!  Some of the great brands that will be represented include Comet, JME, Labino and QSA Global.  That list isn't complete yet, so be sure to ask us to show you around when you get here.
Along with the food and great company, we will be offering drinks—both alcoholic and non-alcoholic.  Please enjoy responsibly.  We can assist with an Uber service if you need it. 
Did you know that the open house coincides with the Inspection and Maintenance and Source Retrieval courses with instruction from QSA Global?  What a fantastic addition to an already great week!
What else?  Door prizes…lots of door prizes!  Music!  Did we say great company?  It's going to be fantastic.  We can't wait.
Please let us know if you can make it.  You are very welcome to bring a guest.  RSVPs are recommended but are not required, they just assist us in planning for refreshments and seating.  We look forward to seeing you.