Imagine having the chance to purchase a unique piece of apparel.  Imagine that it is not only hardworking at work and at play, but it can be worn every day too.  That it will help you stay safe.  And that it has a one-of-a-kind design that honours the day-to-day activities that NDT works with.  Finally imagine that it supports a charity that combats a disease that affects all of us.  IR now has that and we call it the IR Charity BUFF® Original.  It's original BUFF® brand neckwear, which was created specifically for IR.  You can buy them online or at either our Edmonton or Burlington locations.
It's for Charity: Supporting Heart & Stroke

Why do we call them the IR Charity BUFF® Original?  Because the proceeds from every BUFF® Original that is purchased goes toward a charity–specifically Heart & Stroke.  Heart disease and stroke touches everyone whether it is personally or it is friends and family.  It's something we all have an interest in fighting.  Here's what Heart & Stroke have to say on their website:
For more than 60 years, Heart & Stroke has been dedicated to fighting heart disease and stroke. Our work has saved thousands of lives and improved the lives of millions of others. You'll probably run into someone today who is alive and well thanks to the countless Canadians who have supported our cause with their time and donations.  It could be the young boy you pass on the street whose heart defect was successfully mended thanks to life-saving research. Or the woman at the coffee shop whose stroke was treated with a clot-busting drug. Or the father whose hockey teammates saved his life with CPR.
Heart & Stroke is a Canadian foundation with a national focus.  We wish to support our communities and as a Canadian-based company ourselves, this really felt like the right thing for IR to do.

It's the Real Deal
The IR Charity BUFF® Original is the real thing.  It's premium, brand-named BUFF® neckwear that was created just for IR.  You won't find our design anywhere else.
So what about the design?  It's all about NDT. The design consists of a collection of icons that represents a variety of industries that NDT services: oil and gas, transportation, aerospace, and nuclear. It was fashioned in a way that creates a camouflage pattern, which is not only a practical piece of attire for the outdoors person, it is a great everyday piece that will travel where you go.  It comes in four different colour options so that it will appeal to both genders and all age groups.  It comes in military green—of course—teal, purple and black.  There is something for everyone.
You should get one.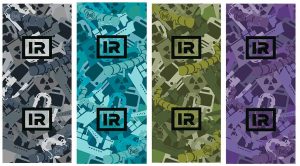 The IR Charity BUFF® Original has a limited edition design.  Only a few hundred of them were made.  Once they run out there are no plans to get more.  Because of that you may end up being the only one among your peers to have this BUFF.  Sure, they might have a buff, but is it an original?  And if it's an original does it come in this design? 
We know that you can get a brand-name Buff for $25 in a few select stores or even directly from the Buff online shop.  But do the proceeds go to charity?  When you pay your $25 for an IR Charity BUFF® Original, Heart & Stroke gets the proceeds.  It's a small deed that supports a great need.
Join us…in the Buff!
Not only will you enjoy having an IR Charity BUFF® Original for yourself, but they make a great gift for clients, friends and family too.  Your purchase can be made online, in person or by phone.  It's a good cause and we hope you will join us…in the Buff!